KSNA meets on the third Monday of every month at Hogg Elementary School, 1144 N. Madison Ave.
All residents and property owners in Kidd Springs are welcome to attend.
KSNA Bylaws, Article II – Membership & Boundaries
All property owners and residents of Kidd Springs shall be members in the Association upon completion of a membership card. The boundaries of Kidd Springs are Colorado Blvd. on the north, Zang Blvd. on the east, Davis Street on the south, and Tyler Street on the west.
Contact: (kiddspringsneighborhoodassn@yahoo.com)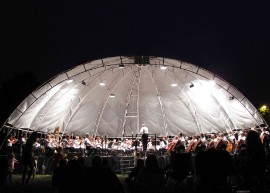 The Dallas Symphony Orchestra performing a free concert in Kidd Springs Park. (June 2010)